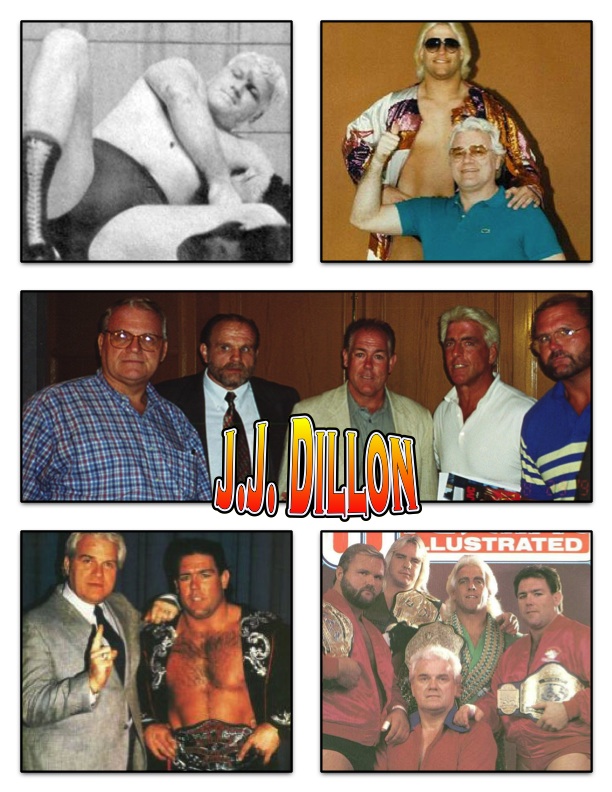 Check out J.J.'s website at http://www.jjdillon.com

1.In the age-old question,how did you get started in the wrestling business?

JJD:I was first, and always will remain a wrestling fan myself. I discovered professional wrestling as a kid from Trenton,NJ, in the mid-50's, and fell in love with the business. As you will discover reading my autobiography "Wrestlers Are Like Seagulls", I have done it all from selling programs to breaking down the ring. By accident I was given an opportunity to referee in 1962. I thought that might be as far as it would go for me, but I never gave up chasing my dream. I wrestled part-time and in 1971, months before I turned age 29,I started wrestling full-time, and the rest is history. After I retired from the ring in 1989, I continued to work in the business in an executive capacity until WCW closed in 2001. I spent well over 40 years in wrestling spanning five decades.


2.Can you describe what the days were like of being the manager of The Four Horsemen?

JJD:It is difficult to accurately describe the Horsemen years. I was working in the office for Jim Crockett Promotions in Charlotte during the day, and then I would jump in the car to head for the airport or to a regional venue to appear with the Horsemen that night. I would usually get home late (or sometimes the next morning if on a commercial flight), only to do it all over again for another day. The Horsemen partied hard at night, and I don't remember when I slept. Maybe that is why I have trouble remembering a lot of details. However, it was the highlight of my career and I was having fun too.

3.One moment I"ll never forget is Ric Flair Appreciation night and you came to the ring with two girls and confronted Sting. Sting said,he wanted Flair
and in the melee,he attacked you and put the Scorpion Deathlock on before The Horsemen made the save. Your thoughts on that angle?

JJD:The Ric Flair Appreciation Night took place at a TV taping at Dorton Arena in Raleigh, NC. The Horsemen were being Horsemen, and that led to the confrontation with Sting at the ring apron. I threw champaign in Sting's face, and paid the price. It had impact and was entertaining, which is what the Horsemen were all about. As the Four Horsemen, we were ahead of the times and breaking new ground in professional wrestling. It sometimes amazes me that fans still remember these angles twenty-some years after the fact.


4.Did you get along with all members of the group like Luger,Windham & The Andersons?

JJD:Actually, we all got along quite well, which was probably a contributing factor to our huge success. Not a lot of people got along with Ole because he was so outspoken, but I knew him from the time I started in the business in 1971. I understood Ole and liked him personally, and I still regard him as a friend today. Luger was more of a loner and kind of aloof, but we got along as well. We certainly had mutual respect for each other. I knew Barry's father (Blackjack Mulligan) and I knew Barry since he was a kid breaking into the business in Amarillo in the 70's. Barry is one of the most talented wrestlers I ever saw, and a good guy.


5.Tell us your favorite Ric Flair story?

JJD:I don't know that there is such a thing as a favorite Ric Flair story. Every day was a new adventure with him. His work ethic over the years speaks for itself, and he is still entertaining fans because no one else has come along to replace him to do what Ric does as well as Ric does it even today. They broke the mold with "Nature Boy" Ric Flair.

6.From a wrestler to manager to being in the office,what was your favorite time in wrestling?

JJD:I really enjoyed my time as a wrestler and a manager. If you check out www.jjdillon.com you may be surprised to learn that I had an extensive career as a wrestler with 3000+ plus matches to my credit. Of course I am best remembered as the Leader of the Four Horsemen, which is fine with me. There comes a time for everyone to hang up the trunks, and I was no different, especially because I started full-time at a late age. I continued to gain satisfaction in an office capacity. It gave me longevity in the business, and my years on the road gave me a unique perspective that few others had in dealing with talent in an administrative capacity.

I've enjoyed our TAWZone interview, and I hope everyone will check out my website, and if you decide to pick up a copy of "Seagulls", I will be delighted to sign it (and personalize it, if you so desire) at no extra charge as my way of saying thanks. I guarantee that you'll enjoy the book.

All the best,

"J. J."